Общая информация:
Размер: 8 GB
Лекарство: не требуется
Интерфейс: Русский | Multilanguage
Программа требует:
Windows 10 | 8.1 | 8 | 7 | XP | Vista x86-x64
Описание:
Универсальный Сборник Лучших Программ Рунета, распределённых по категориям, с Автоматической Установкой в Операционные Системы Windows. В Сборник дополнительно добавлены Портативные Программы, которые можно будет легко использовать как с Диска и Виртуального Привода, так и с USB-накопителей, включая установку MInstAll и WPI, а также автоматическую установку драйверов с помощью Snappy Driver Installer и DriverPack Solution. Для большего удобства использования Сборника добавлена Мультизагрузка.
Автоматическая установка программ (Список и варианты установки)
Текст | Чтение | Перевод:
Просмотр | Редакторы Документов:
Файловые Менеджеры | Редакторы Ресурсов:
Информация и Диагностика ПК | ОС:
Каталоги | Поиск | Дубликаты:
Визитки | Календари | Плакаты:
Портативные программы и обычная установка (Список и варианты запуска/установки)
KMS Tools 01.06.2021

AAct
AAct Network
ConsoleAct
Defender Tools
Garbage Collector
KMSAuto Lite
KMSAuto Net
KMSCleaner
KMSoffline
MSAct
MSActBackUp
Office 2013-2021 C2R
Office Uninstall
PIDKey Lite
UniCrypt
W10 Digital Activation Program)

AAct 4.2.2
W10 Digital Activation Program 1.4.1
Microsoft Office 2013-2021 C2R Install 7.3
Office Uninstall 1.8.2
Office Install Online 1.5
Check and Change Channel Office 2016/2019/2021/365 1.7
OEM Info Updater 9.4
Destroy Windows 10 Spying 2.2.2.2.27
Dism++ 10.1.1001.10
O&O ShutUp10 1.8.1421
W10Privacy 3.7.0.8
Win 10 Tweaker 11.4
Win 10 Tweaker 17.4
Кроха Tweaker 1.4.1
Edge Blocker 1.7
Windows Defender Control 1.9
Windows Update Blocker 1.6
Windows Privacy Dashboard 1.4.1834
Windows Update Manager 1.1.2
Windows Update MiniTool 20.12.2016
Windows Update MiniTool 07.01.2020
Block Auto-Update 1.3
Microsoft Windows and Office ISO Download Tool 8.46
Обновления | Компоненты [Install]:
Антивирусное ПО [Install]:
Антивирусное ПО [Онлайн установка]:
Антивирусное ПО [Portable]:
Медиа | Редакторы [Portable]:
Просмотр – Чтение | Перевод [Portable]:
Удаление | Распаковка [Portable]:
Скачивание | Загрузка [Portable]:
Информация | Обслуживание | Диагностика [Portable]:
DVD – ISO | USB – HDD [Portable]:
Игры | Развлечения [Portable]:
Автоматическая установка драйверов (Список драйверпаков)
Перед установкой:
Отключите Антивирусное ПО.
Закройте Все Приложения и Браузеры.
После установки:
Обязательно Перезагрузите Компьютер!!!
Для корректной работы некоторых программ требуются уже установленные в Операционной Системе Windows: Обновления, Драйверы, Visual C++, Microsoft .NET Framework, DirectX, Java, Adobe Flash Player, Silverlight, RuntimePack…
Устанавливайте их в первую очередь и перезагрузите компьютер.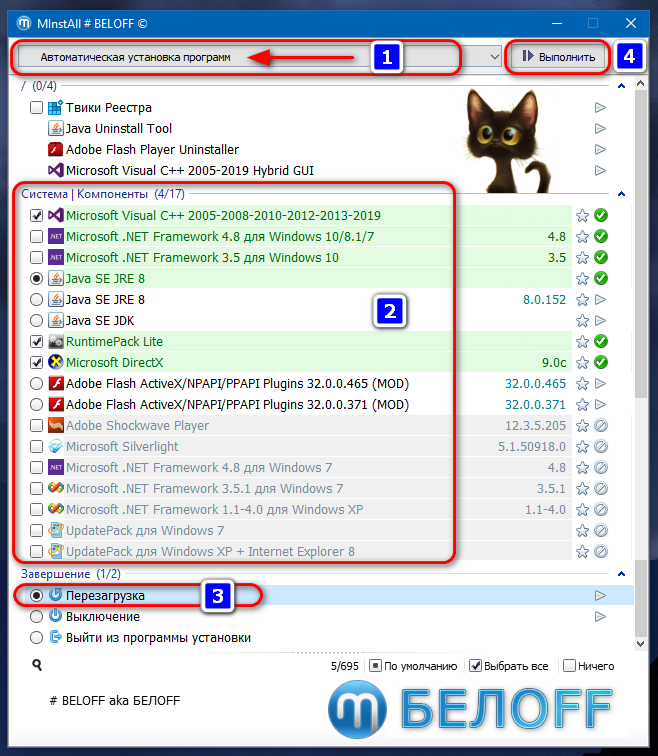 Контрольные суммы BELOFF_2O21.O6_Minimal.ISO